Red Ball appears around Sydney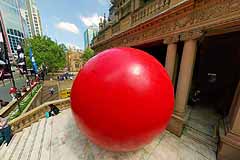 Another inflatable ... another big thing.
Panorama.
This is a big red ball, an art installation by American artist Kurt Perschke - which is appearing in unannounced locations round the city for the next few weeks. This was its inaugural appearance - outside the Sydney Town Hall on Tuesday.
Peter Murphy's Panoramic VR